I see that some UDA members have received their pension from the British by way of a
£1 million grant
. This did not come as any great surprise to me as the Brits have been offering little sweeties to their death squads,
sectarian militia
and
police force
for years.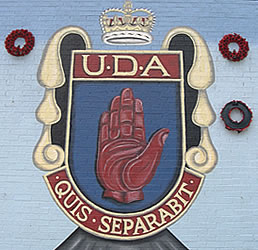 When you look at the
activities
of these groups it is clear that they were symbion organisations that were controlled by the Brits and their agencies.
The British government held secret talks with the UVF shortly after the
Dublin/Monaghan bombings in 1974
. The meeting took place at Laneside, MI5's headquarters on the outskirts of Belfast. It was just 12 days after the bombing that killed 33 people and injured over 100 more, many seriously.
A British MOD memo to the British Cabinet in the early 1970's outlined collusion by the UDR with unionist death squads. The document admitted that the UDR was the largest single source of weaponry acquired by the death squads, and their only source of modern weaponry.
According to another document, during a meeting in 1975, Harold Wilson informed opposition leader Margaret Thatcher that members of the RUC were passing information to the UVF. Despite this, both the UDR and RUC continued to attract the enthusiastic support of the British Government.
The sworn affidavit of RUC man
John Weir
is a telling statement of what actually went on in the deep and murky world of British state collusion.
The Miami Showband
,
Pat Finucane
,
Rosemary Nelson
,
The Reavey Brothers
,
The bombing of Kay's Tavern
,
Seamus Ludlow
......... the list just goes on and on!
Still, at least the squads got their pensions in the end!