I would like to echo the sentiments of
Bandon Sinn Féin Councillor John Desmond
who has welcomed reports that the Irish Government may be about to join the campaign to return three of Irelands patriot dead.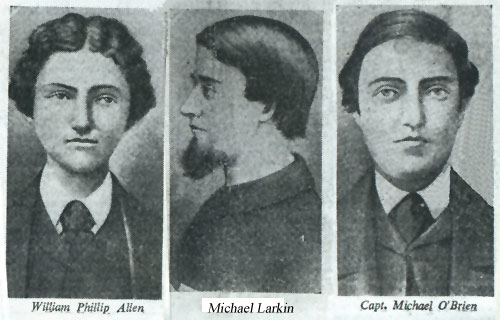 John has spent the last 6 years researching the possible return to Ireland of the
Manchester Martyrs
.
The year was 1867 and Michael Larkin, William Phillip Allen and Captain Michael O' Brien were executed by the British for their rescue of Colonel Thomas Kelly and Captain Timothy Deasy. Earlier that year Captain Kelly had been declared Chief Executive of the IRB and as such the head of the Irish Republic.
At their trial each of the men made speeches before the court. William Allan declared,
"I'll die as many thousands have died, for the sake of their beloved land and in defense of it. I will die proudly and triumphantly in defense of republican principles and the liberty of an oppressed and enslaved people."
These men do not belong to any one political party, their spirit belongs to the long Republican tradition on this island which looks upon these men as brothers.
These men are Irish Patriot dead and form a line of brave Irishmen who have went to their grave before they would sully the Republic, James Connolly, Sean Sabhat and Bobby Sands are other such men.
I hope that these men can be laid to rest in Ireland, a final tribute for their selfless acts made in support of liberty.