The
Oireachtas Justice committee
has said what Republicans already knew, namely that successive British governments knew of the widespread collusion between its security forces and Unionist death squads.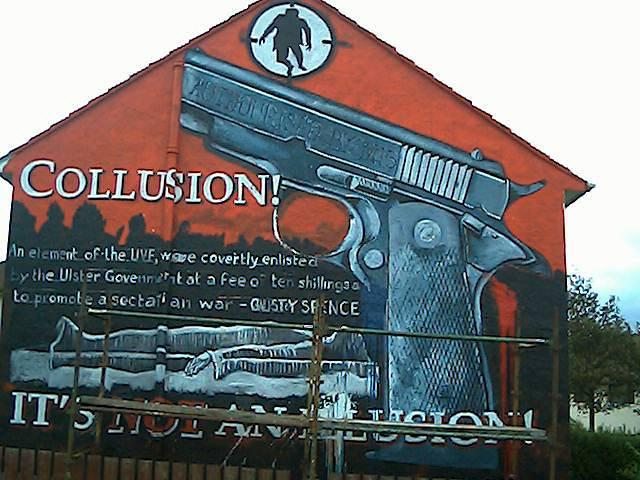 The committee's conclusions in relation to successive British governments are its gravest. It refers to a meeting in 1975 attended by British Prime Minister Harold Wilson and Tory leader and despot Margaret Thatcher.
She was told the RUC were not to be trusted, elements in the RUC were close to the UVF, and the reserve force, the UDR was heavily infiltrated by Unionist paramilitaries who could not be relied upon in a crisis.
Republicans have been saying this for years. The issue of British state collusion is not a case of a "few bad apples" as several deluded Unionists would have you believe. The Brits through FRU and other agencies directed State sanctioned murder against the Nationalist and Catholic people of the six counties.
It has also emerged that the highest ranking RUC man to have been killed in the Troubles, Superintendent Harry Breen, was complicit in acts of collusion between RUC men and Unionist death squads.
Breen and his RUC colleague Bob Buchanan were shot dead by the South Armagh brigade of the IRA in March 1989. They were returning from a meeting with the Gardaí in Dundalk when their car was ambushed on the Edenappa Road in Jonesborough.
Former RUC officer John Weir said Breen was present when meetings with unionist paramilitaries took place and collusion was "laughed and joked about".
Weir claims Breen had connections with unionist paramilitaries, was well aware of other RUC officers colluding with unionist killers and approved rather than took action against collusion.
Weir also claims Breen was present at meetings with unionist paramilitaries during which weaponry was handed over to the death squads.
Weir's testimony was recently authenticated by a panel of international experts investigating British collusion in 76 killings carried out by the notorious Glennane gang in the 1970's.
This is the same Glennane Gang, some of whose members Willie Frazer would have you believe were "innocent Protestants", which was responsible for a whole host of atrocities.
To give a clear picture I will list them below.
19.02.74 TRAYNOR'S BAR, AUGHENLIG
07.05.74 JAMES AND GERTRUDE DEVLIN
17.05.74 DUBLIN - MONAGHAN
27.10.74 ANTHONY DUFFY
29.11.74 McARDLE'S BAR, CROSSMAGLEN
29.11.74 HUGHES BAR, NEWRY
10.01.75 JOHN FRANCIS GREEN
10.02.75 HAYDEN'S BAR, GORTAVALE
21.04.75 DUNGANNON BOMB
27.04.75 BLEARY DART'S CLUB
31.07.75
MIAMI SHOWBAND
01.08.75 GILFORD MINIBUS AMBUSH
22.08.75 McGLEENAN'S BAR, ARMAGH CITY
24.08.75 TULLYVALLEN
04.09.75 McCANN'S BAR, BALLYHEGAN
23.10.75 PETER AND JENNIE McKEARNEY
19.12.75 KAY'S TAVERN, DUNDALK
19.12.75 DONNELLY'S BAR, SILVERBRIDGE
26.12.75 VALLELY'S BAR, ARDRESS
04.01.76 REAVEY FAMILY
04.01.76 O'DOWD FAMILY
08.03.76 TULLY'S BAR, BELEEKS
09.03.76 CASTLEBLANEY BOMB
17.03.76 HILLCREST BAR, DUNGANNON
15.05.76 CLANCY'S BAR, CHARLEMONT
15.05.76 EAGLE BAR, CHARLEMONT
05.06.76 ROCK BAR, KEADY
15.08.76 RENAGHAN'S BAR, Co MONAGHAN
16.08.76 STEP INN, KEADY
25.02.77 Sgt JOE CAMPBELL
19.04.77 WILLIAM STRATHEARN
18.06.76 THE KIDNAPPING OF Fr HUGH MURPHY
Weir has also implicated a former head of Special Branch, Brian Fitzsimmons, who died in the 1994 Chinook helicopter crash in Scotland. According to Weir, Fitzsimmons was well aware of the extent of RUC collusion with unionist death squads but did nothing to curb it.
A former senior member of the British army has also claimed that his military career in the North was ended after he raised objections to the killing of a Catholic man in County Armagh involving British collusion.
A Lieutenant Colonel in the British army, Nigel Wylde had been in the North of Ireland in the 1970's. According to Wylde a sectarian killing had taken place after the British army passed intelligence details to a unionist death squad. After the killing Wylde raised objections and was transferred within days.
Wylde, an explosives expert, also believes unionist paramilitaries involved in the Dublin Monaghan bombings did not have the capability to make such devices and the most likely source was the British army.
Just the tip of the iceberg and quite clearly not just "a few bad apples"