It seems that Bertie Ahern has said what we always knew, namely that the reason why the Brits won't have a full and independent inquiry into the murder of Pat Finucane is because they are
protecting British security forces
.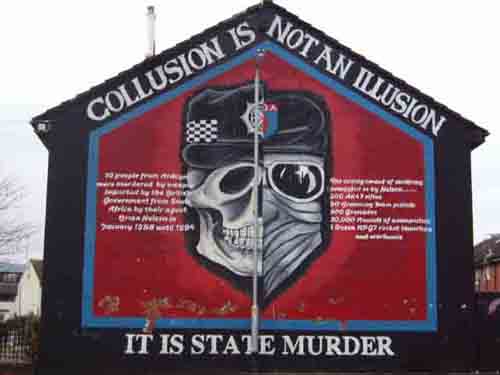 They are trying to cover up their widespread and systematic policy of collusion with Unionist death squads.
Bertie Ahern told the Dáil that he regretted that the British government hadn't honoured a deal reached at the Weston Park talks in 2001.
He told TD's
"They have offered a different type of inquiry. Not to put a tooth in it, because I have spent so many hours talking to different people, but the reason is they will not subject the military authorities to an open forum on this. That is the issue"
Fine Gael leader Enda Kenny said
"The truth in this case must come out. This man was murdered and there was collusion between the British security forces and the loyalist death squad that carried out the assassination"
The US House of Representatives recently passed a resolution calling on the British Government to immediately establish an independent public judicial inquiry into the murder of Mr Finucane.
The Finucane family is currently pressing for a Senate resolution mirroring the recent congressional motion and has written to every Senator to lobby for support.
Bertie Ahern said that the Irish government supported the family on that initiative.
It's time for the British to come clean on their policy of collusion and give some closure to the family.
Their portrayal as the 'independent referee" as opposed to an active protagonist during the conflict doesn't hold any water.