Today marks the 25th Anniversary of the death of Bobby Sands. On the 5th May 1981 Bobby died on Hunger Strike after lasting 66 days. I wasn't alive in 1981 but as a young republican growing up in South Armagh his name and story was a very live issue.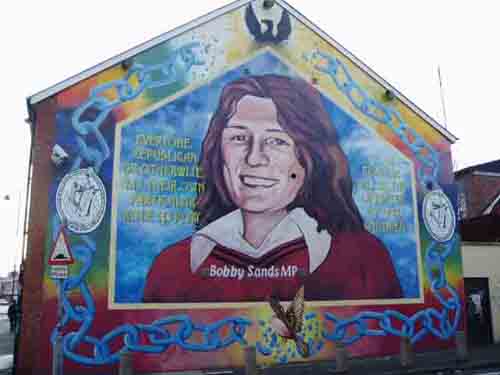 In my grandfathers living room stands a picture of the first 5 Hunger Strikers, my Dad and other members in Dundalk had them made at the time of the strikes and very few seem to have survived. My grandfather would have been a Fianna Failer up until that point but like many others changed to Sinn Féin after the Hunger Strikes and passed his first Republican vote when Paddy Agnew was elected in Louth.
As a young Republican it is not lost on me the fact that Bobby and all the other Hunger Strikers were young men not much older than myself. They are still and will always be a source of inspiration. Their courage can never be surpassed, their dedication never faltered and their belief never questioned.
It needs to be remembered that Bobby's death wasn't just felt in this country, he is remebered all around the world for the courage that he and the other lads showed when they faced down the might of the British in their struggle against criminalisation.
Over 100,000 attended his funeral
The US Congress and state and local governments passed resolutions honoring Bobby's sacrifice and sent letters of condolence. The New Jersey state legislature noted his
"courage and convictions."
In Rome, the President of the Italian Senate did what the Brit Speaker couldn't bring himself to do by expressing the Italian government's sympathies to the Sands' family. Five thousand protesters burned the Union Jack in Milan. Thousands more marched in Paris behind a large portrait of Bobby chanting
"The IRA will conquer."
In Le Mans they named a street after him. The British embassy there call it an
"insult to Britain."
Even Hong Kong, a British direct colony, was outraged by Bobby's death. The Hong Kong Standard said it was
"sad that successive British governments have failed to end the lst of Europe's religious wars."
The Hindustan Times remarked that Margaret Thatcher's allowing a fellow Member of Parliament to die of starvation was an act which never had occurred before in a "
civilized country."
Iran announced it would be sending its representative to Bobby's funeral in West Belfast.
Protesters in Oslo, Norway, hurled a balloon filled with tomato sauce at the English Queen Elizabeth, there on a state visit. In India, the opposition party in the Upper House stood for a minute of silent in tribute. The members of the opposition party also stood in the Portuguese legislature. It seemed that parties in power feared Brit anger. But in Spain, the Ya newspaper said Bobby's death was "
an act of heroism."
Pravda called his death
"another tragic page in the grim chronicle of oppression, discrimination, terror and violence"
in Ireland. Poland's Lech Walesa paid tribute,
"Bobby Sands was a great man who sacrificed his life for his struggle."
Dr. Michael Thomas in the August edition of the British Medical Association's News Review . Thomas was the chairman of the Association's Ethics Committee and a serving lieutenant-colonel in the British army. His remarks were made all the more poignant considering his stature and his professional background.
He said Bobby was
"like the piper walking in front of a highland battalion, the bloke who was prepared to be shot down first."
Specifically to Basil Hume (who had called Sand's sacrafice suicide) , Dr. Thomas wrote:
"Is it suicide for a soldier to charge a machine-gun nest, knowing that he was almost certain to get killed? Isn't it what we describe as laying down one's life for a brother? That's what Bobby Sands was doing..."

Bobby said it best when he said
"Of course I can be murdered but I remain what I am, a political POW and no-one, not even the British, can change that."
Always remembered and never forgotten