I see that many Catholics have been marking the
first anniversary of the death of Pope John Paul II
. I remember feeling sadness at the death of Pope John Paul II; he was the only Pope that I had ever known.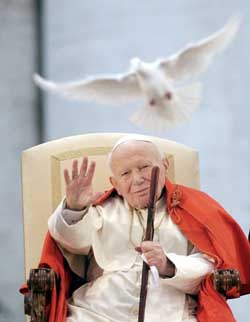 I always use his quote about "every religion having a path to god" when I am forced to listen to hardcore Christians drivel on about "the only way to salvation is through Jesus Christ".
This morning Pope Benedict XVI paid tribute to his predecessor before saying the Angelus prayer. In a voice choked with emotion, Pope Benedict said that a year from his death, a great Pope had left us an immense heritage.
I am sorry to say however that the legacy left by Pope John Paul II is not a pure one; it is tarnished by abuse, lies, hurt and pain. I do not blame him for the abuse of the children but the entire hierarchy turned a blind eye and that is what is so hard to forgive.
Pope John Paul II was a religious man who did a lot of good but my memory of his tenure will unfortunately always be blackened by the accounts of abuse that has littered many a Catholic parish.
Rest in Peace