I was saddened but not surprised to learn that
intolerance has once again raised its ugly head
at the "
Dome of Delight
". Belfast councillors have voted against erecting a stained glass window in the city hall in memory of Socialist and Irish patriot James Connolly.
Sinn Fein MLA Fra McCann pointed out the huge impact that Connolly had on Belfast.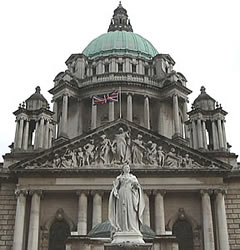 "He was a champion of the working class and people of no class, we believe because of his connection with the working classes, Protestant, Catholic and Dissenter, that it would be only right he be honoured in this way by the city council."
Fra said Belfast City Hall was a building "full of regalia that represented one community" and that a window commemorating Connolly would encourage more republicans to use to city hall.
I agree with Fra 100% on this issue. I have been in our party offices on a few occasions and there is no doubt which community is represented in the decor of the city hall and it isn't the Nationalist or Republican community.
They have windows commemorating Crown forces who have colluded and participated in the murder of Belfast citizens and they have statues of foreign monarchs but there is nothing for the Nationalist community.
The response from the DUP was rather telling, Ian Crozier said the motion was simply an attempt to "erode the British identity" of the province.
"They have been at this at the city hall for quite some time," he said."First it was trying to remove the Union Flag, now it's trying to put in a window to the Easter Rising. It is just bit by bit, gradual attempts to erode the British identity of the people of Northern Ireland - we are not going to support it."
That basically means that anything that supports an Irish or Nationalist identity is automatically challenging to the Unionist mindset of supremacy.
It is about time that the DUP and other bigots learnt that the days of "croppy lye down" are over!